~Basic~
Name: Kiyen Mishima
Alias/Nickname: Doesn't have one.
Actual Age :240
Physical Age: 19
Gender: Male
Division:13
Rank: 3rd Seat
~Appearance~
Height: 5'9''
Weight: 165 lbs.
Eye Color: Yellow
Hair Color/Style: Blue, Long, Straight
Complexion: Brown
Any distinguishing features: None
Picture: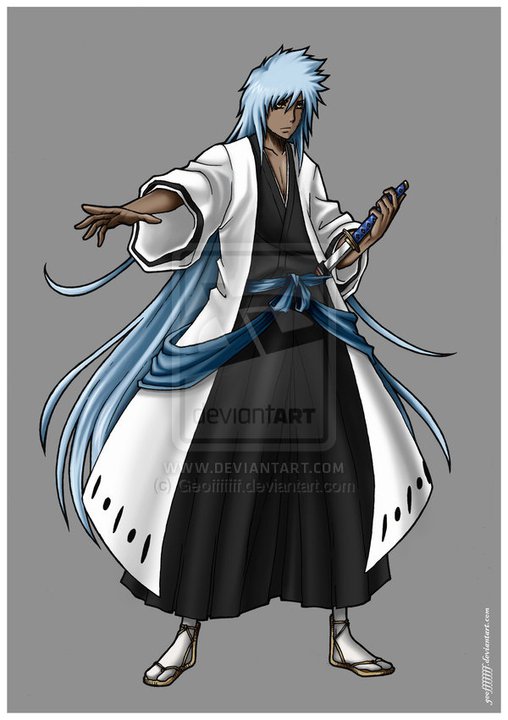 ~Personality~
Personality:Kiyen is very cold, quiet, smart, distant,and quite cynical when needed to be, willing to harm both his comrades and enemies should they ever get in his way. Kiyen refers to anyone he sees as boring as 'weak'. Despite this, he is not particularly violent, unlike most of the Shinigami around him and will only fight when provoked. Kiyen is sometimes seen grinning or smirking, not something him and many of the captains share. Kiyen often conducts himself in a veil of secrecy, displaying a somewhat enigmatic figure. This however changes when he speaks with Arashi, his entire air shifts to a calm.
Sexuality: Straight
Relationship Status: Single
Quirks: Kiyen has an extremely bad habit of underestimating people but tends to hide it despite the fact that he can't.
History:
Kiyen was still a small child when his human life ended and as such he remembers very little of it other than warm face of his mother. His father died before he was born, so he has no recollection of him at all, though photos he saw showed that he was a grim and distant man. Although all he knew was his mother his life was very happy and his vague memories of life are happy ones. Although he knows he must have died, Kiyen cannot remember the actual event itself, all he can remember is waking up in the Soul Society.
His first years in the Rukongai were very difficult as he was still very young when he died and was unable to look after himself. However after a few years he was adopted into a rich family from the 2nd district, which gave him both a home and a goal. He knew from the first time that he saw one that he wanted to become one of the Shinigami, the protectors of the Soul Society. However it was not until sometime later that his great spiritual power was noticed, and he was taken into the academy to become a Soul Reaper.
Placed in the advanced class straight away, Kiyen showed great skill in the art of Kidou & Zanjutusu, learning many techniques and spending countless hours practicing. When the time came to practice with the zanpaktou, Kiyen was the 1st person to volunteer in the sparring classes. Kiyen deafeated his opponent in a matter of seconds.
In his third year at the academy Kiyen achieved Shikai for the first time with his zanpaktou, Arashi. During a training exercise in the human world, the group was attacked by a hollow and one of his fellow classmates was killed. Filled with pure rage, Kiyen called on his zanpaktou, releasing its shikai form. With Arashi in his hands, Kiyen made short work of the hollow, cutting it down and saving the rest of his friends from the enemy. Following this Kiyen soon became a legend at the academy, with his powerful Kidou and skill with the zanpaktou few could rival him and he graduated the academy with flying colors.
~Zanpakuto Information~
Blade Name: Arashi (風死, Tempest)
Sealed Blade appearance: It takes the form of a normal katana. The hilt is black with a tsuba made of two slim swirls of metal looping around the blade to make an open oval.
Zanpaktou spirit: Arashi is generally overbearing, if not blunt, toward those around her, rarely afraid to speak her mind. Arashi does have a caring side, however, and is not above showing concern for others. She seems to value peace, something Kiyen doesn't truly care for as seen when she tried to get Kiyen to stop the rogue hollow from destroying the Sereitei. Arashi seems to show somewhat affection for Kiyen, she believes Kiyen feels the same but doesn't know how to get him to admit it.
Inner world: Arashi's inner world in a place filled with numerous temples and shrines which are constantly trying to withstand the extremely gusty winds coming from Arashi's natural power.Kiyen stated that when he first ventured into the inner world he was immediately swarmed by tornadoes and debris from them.(Shows how little control Kiyen really had over his Zapakuto at the time)
~Shikai Information~
Release Phrase: Its Shikai command is "Reap" (刈れ, kare).
Released blade appearance: Arashi doesn't have an appearance but rather an ability.
~Shikai Techniques/Abilities~
In its Shikai, Arashi 's blade scatters away into the wind leaving only Kiyen's hilt in his hand. The portion of the blade that dissapeares turns into a funnel cloud which forms overhead of the enemy and slams down on them forming instantly into a tornado.The tornado if making direct contact with the opponent,has the potential to shred whatever it touches.
Duration:1
Cool Down:5
Preparation:1
~Other Techniques~
Swordsmanship: Middle-Class
Shunpo: Upper-Class
Hand to hand: Upper-Class
Kido: Middle-Class
~Rp Sample~
Kiyen watched Szayel intently,he knew the Espada was a man of science and more than likely had more than enough tabs on him in particular to be able to combat him.Kiyen pulled out his zanpakuto not knowing the outcome of battle,even though he was apprehensive about it,Kiyen never missed a chance of provocation. "Your name is Sazyel correct? You seemed so confident about winning this battle...yet you haven't drawn your sword yet,are you underestimating me? If you maitain that attitude of yours you might end up losing a limb or two.I am Captain of Squad 9,you looking down on me as if I were nothing will surely be your downfall" Kiyen pointed his blade at Szayel and tilted it downwards torwards the floor. "Reap,Arashi" The actual blade of the sword slowly distintegrated into the air around Kiyen,this shortly was followed by a gentle breeze of wind towards the Espada. "Let your entity blow into the wind" With Kiyen being the epicenter,an immensly strong gale ripped through the walls and the floor around Kiyen diverging on Szayel,Kiyen was hoping to critically wound him or in the least case kill him with one shot.