New Technique Application
Name:
Blood Knight
Appearance: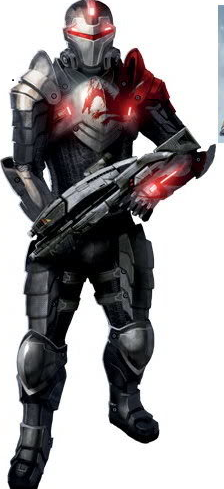 (No gun, with a spine on the back/Color scheme altered to white and red instead of silver and red)

When you learned this tech:
Provide links to training/fighting topics where you learned this tech
Duration:
N/A
Using Rights:
N/A
Requirements/Preparations:
N/A
Description:
- Blood Armor: First it forms the bone structure around his neck into this set of Armor. It gives him no true special powers by itself, only adding another layer of defense onto his Hierro. It has on small ability that after 4 posts it will fix itself of any damage.
- Bleeding Cero: James may refer to his average Cero as his bleeding Cero, but this is his true Bleeding Cero. It is almost identical to his normal cero, but it literally bleeds. The blood left behind is acidic and can melt through Hierro effectively. It's base power is half way between that of Cero and Gran Ray Cero.
Weakness:
- The Bleeding Cero causes Mild burns up James' arm
Preparation time:
2 posts
Duration:
N/A
Cooldown:
N/A