Arrancar/Espada Application
~Basic~
Name:
Dellapero Grance
Alias/Nickname:Actual Age:
1000
Physical Age:
32
Gender:
Male
Rank
: Vasto Class Arrancat
Modified:
No
~Appearance~
Height:
6'5
Weight:
196 LBs
Eye Color:
Black
Hair Color/Style:
A spiked blackk style that covers from the back of his neck to the top hhalf of his forehead.
Complexion:
Mesomorphoc
Remains of Mask:
A one inch eye peice around the left eye.
Hollow Hole:
At the center of the chest and back
Espada Tattoo:
Picture:
Dellapero stands at a height of 6'5 with a Mesomorhp build. This is shown by his abnormally large mussle mass that is visible along his chest and stomache. Delapero has a tan, caucassion skin-tone, black hair that covers the entire top of his head as well as even reaching down over the back of his neck and forehead. Dellapero has eyes as black as the darkest midnight and commonly has a very calm, almost to the point of being emotionless, facial expression. He only would show a different expression in a rare case. Dellapero's attire consists of a black leather jacket that covers his entire back, the bottom-back of his neck, and 25% of the sides of his stomache and chest. As well as black pants that go down to his ankles.Dellapero's hollow mask fragment consists of white hollow mask covering a 1 inch radius around his left-eye. The mask material appears to be smooth, and isn't that thick compared to other fragments. His hollow hole is at the center of his back and stomache, allowing one to see the inside of a portion of the jacket through the stomache.
~Personality~
Personality:
Dellapero Grance doesn't really care for the survival of anyone aside from himself. He actually would prefer that the universe's population droped by a considerable amount. Dellapero considers very few people to have reason for existing and beleives those that don't have a reason to exist should be erased from the face of reality.He usually resides alone in a scarcely populated region of Las Nochas either in a state of sleep or a trance, as one would say, of deep-thought. Dellapero tends to analyze a target's combat style and gain an understanding of their powers before taking the offencive. That way he can assume a estimation of the target's defence from their offence and use the data obtained to his advantage in combat. \
Quirks:
(
Sexuality:
Straight
Relationship Status:
Single
History:
Dellapero was born in the city of Edo which is known today at Tokyo Japan. He was the son to Ideka Katsui, a five star general in the Tokugawa military, and Mitsuta Katsui, a medical worker at the time. From the start of his life, he had to stay in Edo because of the constant war-fare and combat in the other areas of Japan. The only two people he had for company was his brother, Zane Katsui, and his best friend who lived in Edo as well. Dellapero spent his early years of life mainly sleeping and being a rather lazy person who hate doing work, as most kids do. After several years he had finally turned eight and the time to begin his training in the basic arts of zanjitsu and Martial Arts had began. He and his brother were placed under the training of Tadekatsu Honde who was revered as the most skilled combatant of the Tokugawa army and also the defender of Edo Castle at the time.
Dellapero trained against his brother mostly for the practice matches and a few times against Tadekatsu who didn't take very long to beat him for obvious reasons. he adapted to the art of using a blade very quickly and moved on to training his archery capabilities. He even managed to pass Tadekatsu in this subject, mainly because Tade was a strictly close-combat warrior. After five years if regress training and work in all types of weaponry, Dellapero was fourteen and able to join the army and was able to use almost any weapon to it's best extent. He joined under his father as a corporal for a short period of time while his brother was assigned as a Lieutenant of the Shiba battalion. It was pretty dull the first few years in the army as his unit was positioned to defend Edo which was rarely ever attacked even by bandits.Over the years, however. Dellapero started to gain rather odd abilities such as temporary boosts in strength or speed, although this was unknown to him. Once the first guns were developed, Dellapero toke a course to learn how to best use the weapon. By the time he had half-learned the weapon's use, a group of Date battalions attacked Edo by the Northern gate.
Dellapero and his group were guarding the southern gates, so they didn't have much of a problem. They just stood there ,waiting. Dellapero was promoted to Lieutenant later o in the same battalion and his brother was moved as second in command of the unit. By now he was 21 and his father was getting old and rusty. After a hour of war-fare to the north, the real Date army appeared to the South east with the main group of units. The date were the second army to advance in gunman-ship, so they had two entire units with guns. At the same time as the second force appeared, a Date engineer set Edo castle a flame burning away at most anything in the area. A full on retreat was called to Mitogawa from the west gate. Many died that day and Edo was burnt to the ground including Dellapero's old best friend. Such was the life of war.
Later that night, Dellapero's father died from inhaling to many toxic fumes from the fire and Dellapero was placed as the new general of the battalion with his brother being second in command. They spent years together training in the arts of every weapon known to man in this time period. Dellapero and Zane were sent on their final mission to capture and kill Mitsuhide Aketchi in Mt Fuji where they were ambushed by an assassin unit and killed.From that point on weird things were happening again. He felt as if he had been seeing " demons" in the battlefield devouring the souls of dead soldiers. This went on for three years and he was dis-charged from his position for being clinically insane. Dellapero left to live his life in a Urban area for awhile, ten years to be exact. He continued seeing them more and more until one finally attacked him out in a forest. This resulted in his death and turning into a hollow.
As a gillian, Dellapero slowly lost memory of his life as a human and slowly started to turn into a mindless demon the same as the one who had killed him as a human. He killed and devoured dozens of souls in the world of the living, but something was wrong. The souls filled his hunger, but he longed for more..he wanted power. Dellapero returned to the Menos Forest and started to devour hollows instead of human souls. This not only kept his hunger filled, but kept his power constantly raising each day. In a clash of hollows hungry for power, including himself, something odd happened. He and the hollows merged together into a behemoth-like demon known as a Menos Grande Gillian. Dellapero retained control of the mammoth-sized being and continued to devour,only now on other Menos.
After a few decades, Dellapero evolved yet again into an Adjuhace which caused him to retain more of a human personality and regain self-control. Dellapero stayed in the Menos Forest for several more years, eating hollows occasionally, but it was no longer an addiction like it was, just a need.
It toke many years of doing so, but after several centurys of occasionally devouring hollows, Dellapero began to accumulate yet another form. This form, however, was much more human-like then the previous and also contained far greater power then he previously had. Ther result of this new stage gave him even further humanoid personality, adapting that of a certain aspect. Over time, Dellapero found out his mind was more focused on that of just spending time by himself in the least populated sections of Hueco Mundo.
~Resurreccion~
Name:
ginbotsu
Seal Description:
In his humanoid form, Dellapero's zanpakto takes the form of what one would see a shinigami's sealed state as with a minro difference. The entire blade is pitch black to the point of being invisible in absolute darkness. The zanpakto measures to be 48 inchs in length and is sheathed in a dark-red sheath/
Aspect of Death:
Solitude
Release Phrase:
Unvail the power that lay dead in the sealed crypt of hell byond the endless casam of death.
Element/Class type:
Pure Energy
Resurreccion Appearance:
~Standard Techniques~
Sealed Techniques
Cero- The basic art of harnessing one's spiritual energy into a beam of destructive power. Dellapero's cero takes a dark-gray color to represent his spiritual powers.
Bala- The bullet technique of arrancar used to be quick, but not deal much damage normally
Pesquisa- The arrancar art of spiritua pressure detection. Dellapero's pequisa is at the level that upon contact with a target he can see their max power from their current form.
Hierro- The arrancar art of steel-skin defence created by the user's hardened reyroka. Being the former Primera and one of the oldest and most powerful arrancar, Dellapero has one of the most proficiant hierro in current existence being only surpassed by the true masters of the hierro technique.
'
Afte-Images
Even in his sealed state, Dellapero has demonstarted being very skilled in the use of speed and sonido to the point of being able to make a multitude of after-images with sonido. This has also been reffered to as Germelos Sonido. It enables the user to create a life-like image for the cost of a few more steps in the use of sonidl. This means it will cost more energy to use then with a normal sonido not using the after-image technique, Dellapero can make up to five images at a time.
Ressurection'
Enchanced physical abilities
Dellapero, in his ressurection state, gains a rather large boost in all of his statistics, though all to the same extent.His strength is now able to create craters iwth his fist alone, his speed is able to keep up with even some of the fastest of fighters, and his hierro is now at a level matching that of some of the best known hierro users from the past espada era. Lastly, his spiritual pressure is at a level where it can choke those below the level of third seat.
~Innate Techniques~
(Techniques almost exclusive to your character, No more than 6 in the total, this includes resurrecion and sealed form. It is recommended that you have some innate techniques for your sealed form too)
Ressurection Appearance: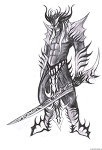 Sealed Techniques
Shadow Blade-
Dellapero Grance wil quickly run his hand across the side of his zanpakto and then cutt himself at the tip of the blade causing a instant black glow of pure energy to burst forth from the sword enabling it enough power to cutt through even some gran rey cero for a limited time period. Of course, it would depend on who fired it. For example, he could cutt through the Septima or Octava espada's, but not the Cuatro or Trecera's. Overall, is basically just an increase in cutting power with the blade only. It does not raise the user's power.
Duration- 5 posts
Cooldown- Ten posts
Sin Barrier
Dellapero, just by a simple mental note, is able to generate a barrier of pure black energy to cover a small area up to his entire body in a sphere of defencive energy. The barrier, unlike most others, will actually absorb 10% of any energy technique that crashs into it meaning if the blast is unable to break the barrier completely, then it will only gain more power. Concerning contact physically, if one were to do so with their bare-hand it could cause substancial burns from the energy source, though with a zanpakto it could be broken with enough slashs with enough power.
Duration- 3 posts or lower
Cooldown- 2x posts used
Dark Bala
Dellapero will generate a bala of pure-black energy with the speed of a normal bala, but the strength of an entire cero that will explode into a wave of black energy upon impact with an object.
Cooldown 3 posts
Ressurection
Crush
Dellapero will form dark energy around a target encasing them in a sphere measuring ten feet in radius. The sphere will then rapidly begin to compact until it crushs the target to a bloody pulp unless they are able to generate enough power to break the sphere. ( Such as Kenpachi's massiv reiatsu burst when his patch is released.)
Duration- 3 posts
Cooldown- 20 posts
Shadow Energy Manipulation
Dellapero, in his ressurection state, can manipulate a type of shadow energy that pretains physical properties. He can use up to as much shadow energy as an equivilant of two times is body mass and is able to use said energy to block attacks, punch targets, or anything revolving around such. The energy is as fast and as strong as the user with durability as much as the user;s hierro. The more the energy is damaged, the more energy it takes to regenerate it to full power.
Duration- Passiv\
Cooldown- excessive use causes quick fatigue.
Shadow Cero
This is Dellapero's finishing move. By focusing the majority of his power into his right-hand pointer finger, Dellapero is able to generate a pure black cero of shadow energy that will seemingly destroy any light around the user. Once the attack is fired, it will be shot in a rather large beam the size of a average hollow, or a six foot radius. The cero, once it hits a solid surface, will then explode into a explosion of further dark-energy. The direct blast is said to be as powerful as the espada's cero oscuras, while the drak energy from the explosion is only at the levelf of basic ceros
Cooldown: ten posts
~Rp Sample~
http://bleachplatinumhearts.forumotion.com/north-america-f116/showdown-at-new-york-t1325.htm