Vizard Application
~Basic~
Name:
Zane Hataro
Alias/Nickname:
Warrior of 1000 weapons
Actual Age:
1700
Physical Age:
32
Gender:
Male
Former Division
: 10th (
Former Rank:
Captain
~Appearance~
Height:
6;4
Weight:
192 Lbs
Eye Color:
Black
Hair Color/Style
: A partially spiked style with pure black coloring.
Complexion:Any distinguishing features:
(tattoos, scar, etc)
Picture: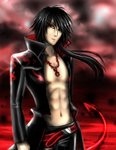 ~Personality~
Personality:
Lazy- Zane is somewhat a lazy person who hates doing much work unless it involves combat or he has something to gain from it. He also tends to sleep alot in his psare time. The only work he really ever does is train.
intellectual- Zane isn't the smartest of thsoe from teh Soul Society, but he is smarter then teh average shinigami and knows about most things reharding the Soul Society, World of the living, and Heuco Mundo.
Inconsiderate-Zane is a somewhat inconsiderate person who doesn't really care about people aside himself or his brother. He curses without any regard for what thsoe around him think and doesn't really give a dman about other people's problems much unless it is involved with something he is interested in.
Overly calm- Zane always displays an overly calm attitude toward most any scenario to the point of almost being confused with emotionless. Wether it be near death or just a minor annoyance, this rarely changes.
Inner Hollow- Zane's inner hollow is a sadistic and nihilistic person who doesn't care how damaged he is. He just keeps fighting to kill his opponent by any means nessisary no matter what. He beleives teh weak desearve to die and must be exterminated from existence. He also doesn't like Zane much as he thinks even he is to weak to own his power. Zane's inner hollow also distributes this personality to Zane when the mask is activated, although Zane can still take back ovfer whenever needed.
Sexuality:
Straight
Relationship Status:
Single
Quirks
:
History:
Zane was born in the capital of Japan, Tokyo, formerly known as Edo during that time period. He was son to one of the emperor Oda's maidens and one of his frontline generals. He had lived with his mother through most of childhood up till age eight. At that time he began his training with his brother to join the Oda army in a later time period. He mainly trained in the arts of Kendo and sukan with the sword and spear. Over a five-year span, his training continue until the time came that he was recruited into the army as a corperal with his brother under the same battalion lead by his father. Zane praticipated in several battles until age 17 where things started to change. It was the battle of mitogawa and his father had been shot down by an ambush unit. He himself stayed to buy his brother,best friend from the army,and allys time to escape from the assault. He was kiled in the process obviously due to being highly out-numbered. ALthough, he did kill over thirty men before he fell and gave the others time to escape.
Zane awoke later attached to the site where he was killed. Everyone was gone now, and he was in some strange form. The form of a dead soul. He was lockied there with some type of chain and couldn't leave. After three months of solitude, he noticed tehc hain was getting smaller and smaller. Zane really didn't know what to think of it, so he just ignored it for the time being. by the fifth month the chain broke and Zane was turned into a demi-hollow.
As a hollow, Zane spent most of his time devouring the lost souls of dead spldiers and occasional ate a few other hollows. After a year in the war-feild, he moved to the Menos Forest to devour more hollows in his thirst for power. During his time as a gillian in the battle feild, he found out devouring hollows gave more power then mear souls. Eventually, Zane and a group of other hollows got in a karge brawl and fused together into a Menos Grande.
Zane's willpower far surpassed that of the other hollows conjoined in the Menos, thus his personality toke over the thing. He then continued to feed and even more hollows and even some Menos for years until he entered the nexts tage of evolution.
Zane became an adjuhace and surpassed the strength of every other hollow in the forest making him the leader of the forest for the time being. He ordered sacrifices brought to him each day, or else he would go on blind rampage sin the forest, killing and devouring every hollow in sight.
Hollow souls did indeed give more power to him, but the humans tasted far better. He fought many shinigami as well in the world and killed over twenty before he was confronted by one of the Captains. Zane thought it was just another shinigami and proceeded to attack. He was winning gaainst the soul reaper until they user bankai. The shinigami's zanpakto speciality was fire and burned Zane's entire body up to the third degree until the shinigami finally ended it and decapitated him with their zanpakto. However, the hollow, as a last resort to live used it's special ability to seal itself inside the soul that was being transfered to the soul society because of the purification process
. It remained dorment for the time being.
Zane had lost all his memories of being a hollow once he arrived in the soul society and was rather confused about what had happened. He wondered aimlessly through rukongo, trying to find answers to the many questions he had. He found out quiet a few things, but none that he really cared for. After two months, Zane found his best-friend from the world of the living as a shinigami. From that point on his friend trained Zane into becoming a shinigami. It was a very long process, but by the ending result it was worth it. Zane never did learn anything about kido or care for it, but he learned alot about his zanpakto and shunpo skill. He had developed quickly in the art of shunpo, quickly surpassing his friend, and learned his shikai very quickly as well.
Zane was then assigned as third seat of squad 11 and served loyaly for over two-hundred years, always training to try and gain further power. On a friday afternoon, his friend had came at the door again, it had bene awhile since they spoke to eachother, so they naturally had a long conversation over what went on in the last two hundred years. By the end of the conversation, Zane's best-friend
, Hanzo had mentioned that he had obtained the power of bankai. Zane had always wanted to obtain bankai, but never knew how to obtain it and never thought of asking the captain for training, so he requested his friend to help him achieve bankai. His friend accepted and began the training quickly. There were many life-threatening test involved in trying to obtain his bankai, but after three-hundred years, he had finally unlocked it. The two then parted ways yet again.
It wasn't long before people found out of his abilities in bankai and he was promoted to Captain of squad 10 for the time being. Although, after five years of being Captain he begam having dreams. He dreamed he was a hollow killing shinigami and other ollows. it was indeed odd and he didn't know why he was seeing these things. Ten years later yet another unusual happening occured, he had the dream of being burned alive as a Vasto Lordes and actually felt the burns on his right-arm. The next morning when he awoke, his entire arm was scarred out of no where with third degree burns. He went to the medic area to try and have the arm healed, but it was ireversable by even the most advanced healing techniques.He later had a seal constructed by the 12th squad of Research and Development for his entire right-arm to seal away some of his high spiritual pressure and cover the scars of his arm.
Twenty years later, he heard a rumor that someone with a similer appearance had just been enstated in the sixth squad as ninteenth seat. He went to confrim this and found out it was his brother from back in the world of the living. He barely remembered anything about him since he was in the soul society so long, but he did manage to remember they were brothers, that was about it though. Zane toke his brother to private areas to train him to try and obtain shikai and bankai as well, but, an unfortunate occurance was that once his brotehr unlocked shikai, it was the same as his own. The same zanpakto, He knew it was against shinigami law for two soul reapers to have the same zanpakto, so he tryed to conceal the soul society from knowing of his brother's shikai. No one found out for awhile, but nothing lasts forever. By the time Zane was 700 his brother was found out and a death-match was ordered by the Soul Society. They were both poisoned iwth a type of drug to make eachother think the other was a hollow so that they would fight without holding back. Once the drug woere off and Zane found out what the fuck had happened, he was extremely angered and and left the Soul Society the next night and vowed to destroy it for that incident alone.
After fifty years of hiding, he started having dreams again, and his inner-hollow or previous self had began to awaken from it's long sleep. He moved to a deserted area and had a long internal war with his hollow as he entered full-hollowfication and destroyed the entire area leaving destruction through the entire area. The few shinigami that came during the time were also killed. By the time he finally toke over his hollow alone, a captan was soon to come from the disturbance in spiritual energy. With his remaining strength, Zane moved away to Karakura town to continue his hiding and search for away to destroy the Soul Society.
Years later as time progressed , Zane joined the Vizard Corps for the time being . His goals were to destroy the espada as well as the soul society, though for now he would need to wait for the right time.
Mask Information
Name:
Dellapero Grance
Manifestation:
Ability / Enhancement:
The hollow gains 300 degree vision of the user and is able to shoot out up to four extra limbs from any location without harming the user. Each limb is as fast and strong as the user. However, being made of pure energy, these extra limbs can shapeshift into any type of close-range weapon to aid in combat. They can also fire cero and bala like the user's normal hands.
Techniques- Cero/bala.
Hollow Mask Appearance:
( The face of this)
Duration:
11 posts per battle
~Zanpakuto Information~
Blade Name:
Raienzo Akuma
Sealed Blade appearance:

Zanpaktou spirit:
Non existant it has been devoured by the innerhollow causing the shikai and hollow mask to both be powered by it. However, due to this he has lost his bankai for the time being,
Inner world
~Shikai Information~
Release Phrase:
Unvail the bringer of uncertain death to the realm and raise the land of eternal torment.
Released blade appearance:
Varris ( Will be explained in techniques)
~Shikai Techniques/Abilities~
(A captain-level Vizard can have 2 unique abilities to begin with. Lieutenant-level can have 1. More can be learnt later via the technique board or can be rewarded after tournaments)
Name of abilty/technique:
Mullti-weapon melee
Description:
The main ability of Zane's shikai is the use of three weapons at a time, one being ranged, one close=combat, and one a bodily attachment such as armor or brass-knuckles. Upon entering shikai, Zane can start with any collection of three weapons doing such, each as durable as zanpakto, though his most common set is a blade, one handed pistol, and armor from the waist to the neck. He can only change one weapon per post with a 3 post cooldown
Duration:
IAs long as shikai is active ( four posts for armor.)
Cool Down:
Three posts
Preparation:
One
Name of abilty/technique:
Energy Shot
Description:
Zane will shoot blasts of spiritual energy matching the fire-rate and characteristics of the gun he currently has. For example, if using a sniper rifle, Zane could fire one shot per three posts with a high power most likely matching that of a cero, while with a sub machine gun Zane could fire ten shots per post, though they would only be at the level of some of the weakest bala.
Pistol- 3 shots per post/ bala level
SMG - 10 shots per post/ weak bala level
Sniper- 1 shot per 3 posts/ average cero level
RPG- 1 shot per 10 posts/ Highly powerful cero level
Assault Rifle- 2 shots per post/ Powerful bala level
Combat Shotgun- 1 shot per post/ Weak cero level.
Duration:
Varries
Cool Down:
Varris
Preparation:
None
~Bankai Abilities~
Zane's bankai is, as before, the ability to use a moltitude of weapons at one singuler time. the base, or constant effect of the bankai, is that by entering the bankai stage, a dark-red set of light-armor will form around the user's body . This armor covers the legs, arms, chest, stomache, back, pretty much every spot except for the neck and head.. The armor has the durability to reduce the damage dealt upon the user by 25%. Though, after taking considerable damage, the armor will break apart in the damaged area, ( Say, being stuck by a cero in one direct point or getting hit in the same spot by a zanpakto three or four times.) This will remain broken and leave weak-points for three posts,or one post, depending on severity. after that it will start to reform back to full armor which takes two posts. Along with that , the armor itself is like a massiv battle-suit filled with weapons. Two blades will form at the hands of the armor as well as several small spikes along the arms and legs.Six small cannons will appear on the chest area, and two additional limbs will form at the sides of the user, each with their hands replaced by pronged knives.
Name of abilty/technique:
Knive Barrages
Description:
Through the use of manipulating his spiritual energy, Zane can charge up spiritual energy in them just as if he were going to with his guns in shikai. There are two versions to this technique, one is to fire them all in six beams, each as powerful as a hado 4 byakurai, or one large blast from them all equivilant to two ceros.
Duration:[/b) 1 post
[b]Cool Down:
6 beams- 6 posts
Giant blast- Once per topic.
Preparation:
One post
~Other Techniques~
Swordsmanship:
Master
Shunpo:
Master
Hand to hand
: Intermediate
Kido:
can not use over level 40 hado or bakudo
Others
Shunpo (瞬歩, Flash steps), a movement technique that allows the user to move faster than the eye can follow.[1]. The focal point that determines the basis of this technique is speed. As speed is the main point of the technique the method is best characterized by how fast one can get from point A to point B in the least amount of steps. Training and skill are what determines how fast a user of Shunpo can move; those of little skill in the technique or those who haven't used it an extended amount of time would obviously be out of practice, causing those individuals to be considerably slower, which requires the use of more steps to move the same distance and become winded far easier in a shorter amount of time. The Arrancar variation of Shunpo is Sonído and the Quincy variation of is Hirenkyaku.
Added by TinniSenka (閃花, Flash Blossom): a special Shunpo technique where one moves to their opponents back. Directly attacking and sealing one's "Saketsu (鎖結, Chain Binding)" and "Hakusui (鎖結, Soul Sleep)" in one strike. The movement is so fast that an opponent may not be able to tell whether he was attacked from the front or the back and even an outside observer may find it impossible to tell what the movements are.[2][3]
Utsusemi (空蝉, Cicada, referencing their molting): It allows for a movement at great speed leaving an afterimage behind. The afterimage may even appear to have taken damage [4]
~
Other Information
~
Immense spiritual pressure.
Above average strength
Above average endurance
Advanced naturall speed,
Advannced Reaction time,
Not well versed in controlling his spiritual energy at full power.
Can't see that far away normally without a sniper scope. ( Close sighted)
Weak to sound-based offencive manuvers due to sensitiive hearing.
~
Rp Sample
~ Upon the dirt floor of the vast battlefeild between arrancar and shinigami, a being of mixed spiritual pressure between hollow and shinigami would appear at a instant, seemingly from out of nowhere, though there was no mistaking the individual was a Vizard. The male had a mesomorphic, or musculer build for his body-type and he wore a black leather jacket that covered his back and the majority of his chest and stomache. His pants were also of a black color, though not of the same material as the jacket. His hair was of a partially spiked style, strands of which covered a small section of his upper-forehead and the back of his neck. The vizard's eyes were also of a matching faded blackish color, though they tinted differently then that of his clothing
The vizard, as known by very few shinigami and the vizard corps, was Zane Hataro, the strongest vizard of the bunch after the boss himself. It was quite apparent there was a battle going on with the constant flares of spiritual pressure running through the entire area. It could be sensed from literally ten damn miles away. Zane toke his time to examin each figure in the area. According to his eye, there were three arrancars, one of which was the cero espada themself. There was also another vizard much like himself in the area. That must have been one of the new novice members, so the power of the individual was unknown to him.
Zane Hataro turned in the direction of one of the female arrancar of the area, his normal overly-calm glance being obviously showing the a trait of his personallity from direct eye-contact alone. What he wanted first was simple and not that hard to comply to. Parting his lips, The vizard spoke in a tone only matched by the stare given off by his eyes. "Arrancar....Care to answer a quick question? Just why exactly are these beings fighting a pointless battle." Such was the question. Now the only thing to do was wait for the answer if the female was able to produce one in retort.