Arrancar/Espada Application
~Basic~
Name:
Moretsu Shukketsu
Alias/Nickname:
N/A
Actual Age:
123
Physical Age:
16
Gender:
Male
Rank
: espada
Modified:
Yes
~Appearance~
Height:
5'6"
Weight:
115 lbs
Eye Color:
Brown
Hair Color/Style:
Black/Spiky
Complexion:
Fair
Remains of Mask:
Back of skull on back of head with three spine's braching off the bottom.
Hollow Hole:
The centre of his tounge
Espada Tattoo:
Base of spine
Picture: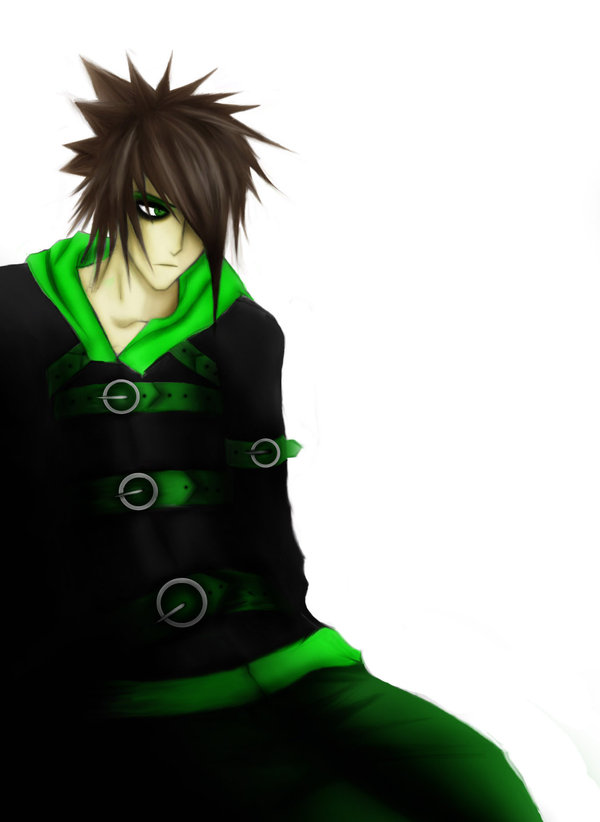 ~Personality~
Personality:
He is a very perceptive man and is fully aware of the limits of his abilities and usually anything he states in comparison to an opponent is justified. Has been seen toying with people's emotional states for his own amusement. his hobby is people-watching, it seems like he is possibly hunting around and searching for an opportunity to create mischief with some poor victim. Thanks to his past, he is obsessed with killing and dying. Killing whoever he does not deem worthy to give him a proper death. He despises James for bringing him back to life.
Quirks:
- Obsessed with death
- Necrophiliac
Sexuality:
Straight
Relationship Status:
Single
History:
His human life was nothing to note. He spent his whole life in a hospital dying of some unknown disease. His hollow life was also little to note of. Hiding and killing, living a cowardly life until he reached the power of adjuhas. Then he joined a small band of Hollows on the path to Vasto lordes power. Which he reached.
He had killed his comrades after they had sent dozens of years together. In a burst of power reaching Vasto lordes. He found Aizen and devoted himself to him. Allowing himself to go into the modded Arrancar project. After the success of Wonderwiess he tried on Moretsu, and failed. The transformation killied him, but shutting down his body in exchange for massive intelligence. He remained this way for 64 years.
James kept his body for experimentation, slowly using his matter control to morph the dead body to life. It took him 60 years to get this right. He brought him back to life, but with only the power of a adjuhas. He spent the next couple years training his powers until he could move and use his abilities properly. Then he left James in a rage and joined up with Fuu Numa, his new master.
~Resurreccion~
Name:
Subete no seigyo
Seal Description:
Four large dagger's in sheaths attached to his sides. One dagger is black, one is white, one is grey and one is clear. The black has a white hilt, the white has a grey hilt and the grey has a white hilt. Teh clear has a clear hilt.
Aspect of Death:
Disease
Release Phrase:
Hmmm... Frag
Element/Class type:
Telekinesis
Resurreccion Appearance:
His head transforms into a skull with scraps of hair stuck to it and pieces of skin in random places. His arms split into six seperate arms, but his originals are strapped to him in a straight jacket. Each of these arms is skinny and malnutritioned like the rest of his body. The tips of his fingers seemed to have the muscle and skin ripped off and are extremely sharp pieces of bone. His legs are malnutritioned, but muscularish. He gains a spinal tail the length of him with an extremely sharp and and sharp spike's. Half his spine is shown to be on the outside of his body. Keeps his daggers.
~Standard Techniques~
* Again thanking my brother for these
Name: Cero (Zero)
State: Both
Description: As a standard energy blast, it consists of firing a powerful blast of concentrated spiritual energy at the target. While in most cases it is fired from the mouth, some Arrancar and Vizard are capable of firing Cero from their hands, fingers and other parts of their bodies. This often requires the user to under take a specific pose, with Coyote Starrk being the only exception.
The power, force, speed, and blast area of the Cero is dependent on the strength of the user (i.e., the stronger the user, the stronger the attack), and there are some Arrancar and Vizard who have come up with their own variation of Cero. The charging and firing time for Cero also varies greatly, from relatively charging fast to firing it to instantaneously fire one without much charging. Morestu has no definate position to fire one from.
Name: Bala (Bullet)
State: Both
Description: An Arrancar-exclusive technique that hardens the user's Reiatsu and releases it like a swift blast of spiritual energy. While the technique is not nearly as powerful as a Cero, its speed is 20 times faster and allows for it to be fired in quick repetition. In addition, it possesses more concussive force than a Cero does. A Bala's speed and power varies with the Arrancar using it.
Name: Sonido (Sound)
State: Both
Description: A technique used by Arrancar which allows them to move at extreme speeds, making it highly similar to the Hohō that Shinigami use. While somewhat similar to Hohō, Sonído appears to be more instinctual than Hohō, requiring no previous knowledge to perform. It also makes a different sound; rather than the swishing or sometimes silent Flash Step of the Shinigami, Sonído makes a booming or static sound.
Name: Pesquisa (Inquiry)
State: Both
Description: An Arrancar's ability to detect, sense and gauge the amount of Reiatsu in his or her vicinity. It functions similarly to Sonar.
Name:
Intelligence
Description:
The succesful modified part of Moretsu is his intelligence. He lost physical use of his body for advanced intelligence. He is the one of the most intelligent Arrancar to date. Lacking alot of emotion, and making him very apathetic.
Duration:
N/A
Cool Down
: N/A
~Innate Techniques~
(Techniques almost exclusive to your character, No more than 6 in the total, this includes resurrecion and sealed form. It is recommended that you have some innate techniques for your sealed form too)
Name:
Control
Usage:(
Both
Description:
Moretsu has telekinetic control of his body. Since he is unable to move normally because of his disease. He has over the years learned to control every movement and function of hsi body using his mind. The only things he does not have to control are his vital organs. This allows him to move much faster than normal. Also allowing him to feel no pain.
Duration:
Passive
Cool Down:
N/A
Name:
Enhance
Usage:
Ressureccion
Description:
This gives Moretsu a sudden burst of energy and regains power within himself. Multiplying all physical stats by 1.5. With this active he can feel pain and it causes his skin to rip and tear in many places these are not superficial wounds. His regeneration cannot be active during this.
Duration:
3 posts
Cool Down
:N/A
Name:
Regeneration
Usage:
Ressureccion
Description:
Moretsu can regenerate his body from what would be a otherwise lethal wound. He can heal minor wounds in a post, medium wounds take 2 posts, large wounds take 3. Limbs take 4 posts to regenerate. .
*Thanks to my brother for this Ability
Duration:
Passive
Cooldown:
N/A
Name:
Outer Control
Usage:
Ressureccion
Description:
Moretsu can control up to 5 inanimate objects with his mind and control them fully. He can control more, but if he control's more than 5 his body slumps, unable to control itself and he cannot move anything farther than fifteen feet away from himself. Can only lift what he can physically carry.
Duration:
Passive
Cool Down
: N/A
Name:
Control Away
Usage:
Ressureccion
Description:
Moretsu can push away anything within a ten foot radius of himself, this does not extend to energy based attacks. This has a very powerful knockback but those powerful enough will only be winded and stopped in place,the push itself can cause no damage, it is not a violent push in that way.
Duration:
N/A
Cool Down
: 3 posts
~Rp Sample~
Moretsu raised his hand, and then his other hand. He smiled. He blinked. He moved. After a year he had almost complete control over himself. He raised his lower half and sat. He sat. Not lie down like he has for the longest time. He turned and pushed himself off the table, landing on his feet and faltering for a second, but holding himself up.
He looked down at himself, he was in a white hospital robe. This was not what he liked. He rummaged through what was in a chest next to him and found his preferred clothes. (A White and black version of what he wears in his Avatar) Also finding four dagger and sheaths, attaching them to his side's like he knew they naturally went there.
He turned to face the wall next to him, smiling, "Hmmm... Frag." He transformed into a zombie monster, his full power released. He was weaker than he remembered, but that would be dealt with later. He walked up to the wall and pointed at it, the wall bursting outwards and breaking in front of him as he walked out into the open air of Las Noches. Chunks of the rock floating around him like he had a gravitational field.