Human Application
~Basic~
Name:
Raienzo Akuma
Alias/Nickname:
Marciless Demon from Shambala. Zoran Laezaravic.
Age:
23
Gender:
Male
~Appearance~
Raienzo stands at a height of 6'5 with a Mesomorhp build. This is shown by his abnormally large mussle mass that is visible along his chest and stomache. Raienzo has a tan, caucassion skin-tone, black hair that covers the entire top of his head as well as even reaching down over the back of his neck and forehead. Raienzo has eyes as black as the darkest midnight and commonly has a very calm, almost to the point of being emotionless, facial expression. He only would show a different expression in a rare case. Raienzo's attire consists of a black leather jacket that covers his entire back, the bottom-back of his neck, and 25% of the sides of his stomache and chest. As well as black pants that go down to his ankles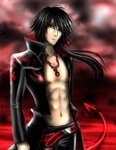 Height:
6'6
Weight:
217 LBs
Eye Color:
Black as the dry blood of those who opposed him in the past.
Hair Color/Style:
Raienzo Akuma's hair is slightly spiked down the top-half of the forehead and the top=half of the back of his neck.
Complexion:Distinguishing features:
Picture
:
Personality
Personality:
Raienzo Akuma doesn't really care for the survival of anyone aside from himself. He actually would prefer that the universe's population droped by a considerable amount. Raienzo considers very few people to have reason for existing and beleives those that don't have a reason to exist should be erased from the face of reality.Raienzo tends to analyze a target's combat style and gain an understanding of their powers before taking the offencive. That way he can assume a estimation of the target's defence from their offence and use the data obtained to his advantage in combat. Raienzo also has been known as one who lacks mercy for any being. He would kill even his own troops without hesitation if need be.
Sexuality:
Straight
Relationship status:
Single
Quirks:
Raienzo hates all races in existence in general and seeks to eradicate anything that stands in his conquest for domination of space time itself.
History:
Zoran Lazarevic is an infamous Serbian war criminal responsible for the torture and death of hundreds of people. The scars on his face and right arm were caused by a NATO bombing raid, after which he was presumed dead. He was competing with Nathan Drake for the legendary Cintamani Stone (which he's pursued for years) and has his own personal army to help him, whose ranks include Harry Flynn and his right hand man Lieutenant Draza. Lazarevic seeks the stone to obtain enormous power, believing in the legends that state that famous commanders through history, like Genghis Khan himself, succeeded in their campaigns with the use of just small fragments of the jewel
Elena Fisher is trying to prove to the world that Lazarevic didn't die in the bombing raid and follows him on his hunt for the stone. In Nepal, Lazarevic and his army wreak havoc and tear the city apart to look for a temple that contains a clue to where Shambala is. After killing many civilians/rebels and sending soldiers after Drake, Lazarevic corners Nathan and his companions and kills Jeff, Elena's camerman, which proves that Lazarevic is indeed a "monster". In the Himalayas, Lazarevic and his army attack a Tibetan village where he kidnaps Karl Schäfer for questioning on where the stone is. He beats Schaefer until he gains answers and soon finds the entrance to Shambhala, which was under the Monastery they were in, at the same time Drake does. Zoran forces Nathan to find a way to open the gates or he will kill both Elena or Chloe Frazer. Nate does what he wants and they soon reach Shambhala. Before he can kill him, though, Lazarevic and his army are attacked by the Guardians of Shambhala.
In Shambhala, Lazarevic uses Flynn as a suicide bomber to try and kill Nathan, Elena, and Chloe. Flynn is almost successful but only injures Elena in the blast of the grenade he used. Nathan finds out that Lazarevic is one step ahead of him because he knows that the Cintamani Stone isn't actually a stone, but the resin that has been created in the Tree of Life. Lazarevic finds the resin sap in the Tree of Life; he drinks it and it heals his scars. Nathan shoots him but the bullets have no effect. Then Drake shoots the pool of resin that Zoran drank from, causing it to explode and kill Lazarevic's men. Unfortunately, it did not kill Zoran himself and the two begin a cat and mouse battle. The only way Drake defeated Zoran was by using explosive resin to damage him to where he was on his knees, telling Drake to finish him off and have no mercy. When Drake chose not to, Lazarevic accused Nathan of not having the will. Drake backed away and admitted he didn't, but the Guardians did. As Drake escaped, the Guardians began brutally beating the war criminal to death.
What Drake didn't know was that Zoran had survived the assault of Guardians and began to gather a large sum of resin for himself and his arm.The entire land of Shambala was left dry as he and his army left. As he was presumed dead by the world, he changed his name to Raienzo Akuma and used the power of resin to change his appearance and voice significantly. There was a side-affect to the resin thoiugh. Raienzo was now able to see siritual beings. After this discovery, he ordered the development of new weaponry to fight off not only humanity, but these spirits as well. These devices became known as the weapons forged in hell because they devoured a person's life-force till death. This was counter-acted by drinking a small amount of resin. Now, Raienzo leads his army for not only world, but dimensional domination of all three worlds.
~Special Ability~
Name:
Statistical demi-god
Descriptions:
Raienzo possesses physical power far beyond that any normal human could ever hope to achive. Most people even refer to him as a god due to this. The reisin he ingested at a younger age gifted him strength with enough force to rival that of a Vasto Lordes Class espada in their ressurection state, speed to match that of sound itself, and enough raw power and durability to take bullets to the head and direct hits froma RPG without any real signs of damage. His durability may be exagerated abut though at times because of another of his powers making it seem greater.
Duration:
Passiv
Preparation:
None
Cooldown:
None
Name:
Instant Regeneration.
Descriptions:
Raienzo Akuma has a highly advanced regeneration ability gained from the reisin of Shambala. He is able to reconstruct even his own organs and limbs in mere seconds. Though, it depends on the extent of injurie of course. This, accompanied with his raw might makes him a force to be reckoned with, This does come at a toll, though. The regeneration drains his stamina to an extent and if used to much can cause a forced knockedout on the user.
Duration:
Passiv
Preparation:
Passiv
Cooldown:
Passiv
Name:
Drink of Shambala
Descriptions:
Raienzo Akuma will pull a vile of strange teal liquid from his pocket and begin to drink the strange substence. This was the original source of his power and can provide temporary fluctuations in his ability. After drinking the liquid, Raienzo will unleash a constant and heavy flow of spiritual energy that has even been shown to knock over houses and other small to mediam buildings around him. This new stage raises his statistical power by 1.5x the amount of viles ingested. So 2 viles would be a solid 2x boost, 3 would be a 2.5x. He keeps three of these viles at a time and must wait a amount of time for more to be gathered from Shambala. This also adds a explosive force toany of his attacks, be it a punch, kick, or shot from a gun. For half of the posts of duration, the user also becomes immune to the sense of pain and can ignore things such as paralyzation and poison.
Duration:
10 posts per vile
Preparation:
1 post per vile
Cooldown:
Until another vile is ingested.
~Other Information~(
Duel gattling guns= Using his superior strength and advanced technolagy's, Raienzo has been able to manufacture two gattling guns that can shoot up to ten bullets per second in repid succession, and be used as a close-range weapon due to their high-weight. This does have two flaws though. The guns weight makes the user twice as slow as normal due to their weight and takes ten seconds each to reload. However, the bullets all have force to even smash sky-scrapers to the ground if enough hit. One bullet alone packs a punch of enough force to smash a 2by 2foot hole in a fully armored tank. Just as the other weapons made for his military force, these drain at the user's life-force for power and will kill the user over time. Raienzo avoids this by drinking reisin from his viles to restore life-force to the point of cap.
~Rp Sample
~
Dellapero sensed an incoming spiritual energy of high-magnitude closing in on the area. Judging from the intensity, he could only assume it was the leader of the vizard. The spiritual pressure combined with the fact it was combined of hollow and shinigamu reishi, meant it was an arrancar or vizard. Since the only person even close to his reishi was Yammy, it had to be the vizard leader, because Yammy was far to slow for this. As the source of the energy entered the area, Dellapero glanced at her as the girl fired a crescent-shaped blast of pure energy. In response, he focused reishi along the cutting-edge of his zanpakto, causing the reiatsu around it to spike more rapidly. With a quick vertical slash, Dellapero sliced through the energy making up the getsuga tenshou, sending two far weaker blasts to his left and right, crashing into the ground and causing dust to envelop him at the same time the vizard began to cast an incantation for something.
Dellapero couldn't make out what she was saying, and soon lost sight of her, but by the fact it was a whisper, that meant it was A, a secret plan being spoken to the Captain Commander, or B, a kidou incantation. Also, since there was a smoke cloud placed over the Captain and Vizard, Dellapero assumed three more scenarios. The three were that they were trying to retreat, which was unlikely, were charging a powerful attack, or were going to do an ambush or surprise attack of some sort. Using the best decision for the current scenario, Dellapero used the sonido technique to vanish under the cover of the smoke the getsuga had created. Before hand, he also noticed the flames had vanished under the Captain Commander's control. This meant, that the Commander didn't want to hurt her ally, which Dellapero could use to his advantage.
Dellapero reappeared directly behind the Captain Commander at speeds unreadable thanks to the boost from sonido. By this point, he couldn't make out for sure, but it seemed as if the other girl had vanished, as her reiatsu was not in the same area it was when the smoke cloud appeared. Meaning she was either charging an attack in hiding, or going for a surprise assault. Dellapero sent a quick horizontal slash at the Commander's neck, but stopped mid-slash when he heard the sound of a blast being fired off. This was bad, he only had, at most half a second. Whether the blast was powerful or weak, it mattered not, he didn't feel like taking that chance. As fast as his abilities allowed, and jumped to the left, while focusing his reishi into the legs and feet to temporarily enhance speed. If he could dodge this successfully, then not only would he avoid damage, but the blast would go at the Commander, potentially causing a friendly-fire affect.
As Dellapero was moving to the right from his jump, the blast partially hit the edge of his left-shoulder, blasting through the skin and scorching the bone, but luckily evading the majority of the damage while the remainder of the blast was still headed for the Captain Commander.With his, small, compared to what could have been, injury, Dellapero turned to face the direction of which the blast came from and aimed his gun at where the blast had come from, while simultaneously manipulating the matter making up the smoke, to form a silencer attached to the gun, stopping any sound from occurring if it were to be used. Finally, Dellapero sent three, silent, high-speed shots in the direct the blast came from, the aim may have been off a bit, but one of them should have hit the target that fired the blast.
Dellapero was starting to get annoyed by this point. He could call for help, but this was his fight. The Commander might have been so scared and weak as to need assistance right off the bat, Dellapero would only call for it if need be. Though, he did have many options on who to bring. He could bring Sangre, Shikyo, or the old leader, Baraggan. After the firing of his shots, Dellapero decided on something. He wanted to end this fight quickly. This wasn't for him. This was for all the arrancars and hollows in existence, so he needed to kill the both of these two. Also, unlike before, if he kills the Captain Commander and Vizard leader, then the Soul Society will be in chaos and dis-array, and if that happens, the remaining espada can finish off the pathetic shinigami while their morale is low.
Dellapero stopped his movement in twenty feet away from the Captain Commander and Vizard leader, with his still, oddly, calm looking facial expresison. Blood wascoming off of his left-shoulder, but it was not a major wound, per-say, compared to what the outcome could have been. Dellapero held his zanpakto so that the point was aimed at the direction of the captain Commander and Vizard Leader. In his somewhat more serious, yet still calm tone of voice, he said quickly, "Černá motyka" This was the trigger to activate his true power, which would surely need to make the two combatants he was against use bankai if they ever wanted to win.
Dellapero's zanpakto and gun both exploded into a mass of silver liquid, this material began to quickly encase his entire body, from head to toe entirely, not showing anything of his body. By the time this material had finished molding itself, it slowly started to grow as solid as the weapons it was originally, as well as shooting out small spikes miscellaneously in the armor. Finally, as the armor finished the solidification process, two rather large horns shots out from the head of Dellapero's new form. If anyone were to look at him by this point, it would be apparently obvious that he looked like the image people believe the demonic being known as Satan, or the devil, but in pure silver instead of blood-red.
By this point the smoke he nearly completely vanished from the field, giving a clear sight of his new form. However,, what was odd about the form, was that it didn't shoot out constant amounts of reiatsu like even his humanoid form did. The reasoning for this, was that all reishi was compacted inside his body, meaning that he had gained the highest potential boost in power from his transformation as possible to the Arrancar species. His spiritual pressure had sky-rocketed to the point of being able to force even other high-ranked espada to their knees. The ground was shaking like that of a 2.0 earthquake from the sheer force of the spiritual energy flowing through the air. The pressure itself, was so vast, that it was almost visible from the density, making it appear slightly blurry in the air.
With his new form now completely. Dellapero opened his right-hand, as if it was holding a rather large blade, and the oxygen rapidly condensed together into his hand and gave the appearance of a silver sword seeming to fade into existence. The hilt itself was two feet long, and the blade attached to it stretched for twelve feet in length, with one foot in width. The blade was far stronger then his old zanpakto used to be, and it gave off a blood-red glow, unlike before where it was glowing with soulless black energy.
Inside the armor, Dellapero's damaged shoulder had been regenerated over the course of time it toke to enter this state of power. His height was now seven foot two, unlike before where it was six foot four. Now, the only thing to do was wait for the reactions of the two females he was in combat with.Dellapero wanted the two of them to use their bankai so he could fight them at full-strength. It was pathetic to just kill them now in their shikai forms. It wouldn't really have been any fun for a fight either.