Arrancar/Espada Application
~Basic~
Name:
Haruin Startun
Alias/Nickname:
Father TIme
Actual Age:
All that is known is that he is the oldest living Hollow, but his actual age is unknown.
Physical Age:
84
Gender:
Male
Rank
: Fraccion to the Decima
Modified:
N/A
~Appearance~
Height:
10' 3"
Weight:
184 lbs
Eye Color:
White
Hair Color/Style:
White
Complexion:
Albino
Remains of Mask:
It forms a circle like a monocle over his left eye
Hollow Hole:
Through his tounge
Espada Tattoo:
N/A
Picture: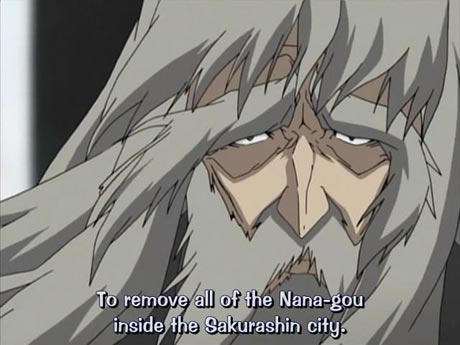 ~Personality~
Personality:
Not much of a personality. He is very much a senile old man, who never speaks directly to anyone. He often mumbles about things that have happened in the past. In battle he can get very serious, and is quite wise when he does get around to focusing. He has a very large large want to gain more knowledge. It is not consuming, but it is a passionate goal. He finds violence without purpose to be pointless and it should only be for self-defense or oddly enough, revenge.
Quirks:
Coocoo For coco puffs
Sexuality:
Straight
Relationship Status:
Single
History:
As a Hollow, Haruin was normal. He hunted and killed and hunted and killed until he became a Menos Grande. Quickly taking control and doing more hunting and killing. He only became abnormal after becoming a Adjuhace. He stopped hunting, as it was not his preffered way. He just sat back and lived, watching others compete. When they challenged him, a small unmoving hollow, they were suprised to find him very powerful. Though sadly this type of life meant that even in his long life span he would never become powerful enough to grow to Vastos Lordes.
This life never changed, but he took refuge in a small palace made out of those who had attacked him. It warded off those unwanted competitors for his life. Making the believe that he had killed so many, which he had, but it was over years that bested most Hollows life spans. After he had grown old and tired of fighting, Others began to come to him. Not for battle but for wisdom, and soon Aizen came too. He requested Haruin to come and gain great power, but Haruin found no reason as he did not need such power. So Aizen left, but not before trying to show him his sword. To this Haruin gently apologized and said he would like to only stay in his small palace and live in peace, asking him to leave his home and telling him to live a favourable life.
Another returned with a similarity to a former wisdom seeker. Someone who had come to him before, Nell, newly trasforrmed. Haruin in his own nutsy way, wondered what she was doing there and she told him she was seeking more wisdom. He, never turning down a challenge to teach took her in and they stayed there for an amount of time that was unknown. They never left the palace so it was always dark and no one ever entered since certain followers of Haruin killed most hostiles who approached.
He was an odd teacher, often giving very odd challenges and riddles and such then ending it all before they rested with a story. These stories always resulted in the same moral, long precious life is granted to those who do not instigate, but protect. He preached not non-violence, but do not use violence without reason. A philosophy he believed Nell soon adapted herself.
After what felt like forever she gave him the offer to join her as an arrancar and as her fraccion. She convinced him with a different temptation. One that he could gain knowledge with this new form. He reluctantly went with her and Aizen created an Arrancar out of him. He was a fraccion to her for a short time before leaving without a word to a less important position so he could ignore alot of the violence. Now as a fraccion to every tenth Espada, coming and going, he search's for more wisdom while still offering it when he can.
~Resurreccion~
Name:
Padre Tiempo
Seal Description:
It is not a sword. But simply a wooden walking stick about eight feet in length.
Aspect of Death:
Fear
Release Phrase:
" Succumb to Padre Tiempo! "
Element/Class type:
Illusion
Resurreccion Appearance:
In looks he changes greatly. He looks like a young man with short spiky white hair and a very focused, stern face. He does not change in height, but his frail body becomes built and muscular. His bone fragment changes to avitor like goggles on his head. His weaknesses of Old age are also fixed as he gains his youth. His clothes change and he gains white armor like bone covering his right arm and shoulder. Ending in a sickening, jagged, five foot long bone blade.
~Standard Techniques~
The Standard Arrancar techniques Available for this character
Name:
Physical Attributes
Description:
Extremely fast, and Extremely strong. If it was only a fight of physical prowess he would fight evenly with an Priviron Espada. His most powerful physical ability is his endurance. Which is the third best out of all Arrancar, bested by the current Primera and one other. He has very little hierro though and it will only stop attacks fro those weaker than Lutienent.
~Innate Techniques~
(Techniques almost exclusive to your character, No more than 6 in the total, this includes resurrecion and sealed form. It is recommended that you have some innate techniques for your sealed form too)
Name:
Father Times Staring Contest
Usage:
Both, but is more potent in Ressureccion
Description:
Haruins Spiritual Pressure has an affect on all of those within it. The weaker you are the more it does to you, the stronger the less it affects you, you must be at least double captian level for it to have no affect on you at all, average captians and above can see through the illusions caused by this. It for one, makes you question your sanity, and slowly causes you to actually go insane (No one has been able to stay in his constant presence for longer than a week without losing their sanity. So one withing his spiritual pressure will think they are going insane, how this happens is unique to every person. Secondly and lastly, it causes minor hallucinations of the person to see different ways of themselves dying once every four posts in a split second flash (Not literally see themeselves die, but they die in this illusion). The hallucination may last to them any amount of time, but will always be a split second in Real life.
Duration:
12 posts
Cool Down:
7 posts
Name:
Father Times Game of Peek-A-Boo
Usage:
Both
Description:
Allows him to switch places with one of his Illusion clones. This may only happen if Haruin is in the same place as one of his clones. For example, he cannot switch places with one in the Soul Society if he is in Hueco Mundo. If he is not in his ressureccion, this move is a little tiring and dazes him for a second after using it.
Cool Down:
2 posts
Duration:
N/A
Name:
Father Times Game of Hide and Seek
Usage:
Both
Description:
The ability to create up to five Illusionary clones at a time. These clones will react like Haruin would. Though they can not make a sound when they move, but they can speak and cannot cause any damage, they also have no smell. If you kill one of the clones one can be created again, but only five may exist. He can choose to see through their eye's. They can preform anything he could, including Cero, but again, it would only be an illusion and would not truly do anything.
Duration:
10 posts
Cool Down:
7 posts
Name:
Father Times Game of Tag
Usage:
Both
Description:
The ability to change the appearence of any one thing or person using illusions. Will trick all senses but that of smell and hearing. Such as making a rock look like a sky scraper or a sword. He may also affect people themeselves, making them believe they are turning to stone or such. This is usually used as a tactic to confuse the enemy for and escape or sneak attack.
Duration:
10 posts
Cool Down:
7 posts
Name:
Father Times Ultimate Game of Hide and Seek
Usage:
Ressureccion
Description:
Adding to the natural augmentation that a Resureccion would give. The ability to create a endless amount of Illusionary clones at a time. These clones will react like Haruin would. Though they can not make a sound and cannot cause any damage, they also have no smell. You can destroy them by killing it.
Duration:
14 posts
Cool Down:
9 posts
Name:
Father Times Ultimate Game of Tag
Usage:
Ressureccion
Description:
Adding to the natural augmentation that a Resureccion would give. Haruin gains the ability to use illusions to change the form of whatever he see's. Such as making a rock look like a skyscaper or a sword. This can trick all sense's except for that of smell and hearing.
Cool Down:
9 posts
Duration:
14 posts
~Rp Sample~
The ground shook and a little off from Kaoru the ground split. The fissure was pretty small, though was quite thick. From its bowels rose a large stone throne. The throne rose to just out of the ground before it healed perfectly.
Sitting in this large, bland stone throne was a Solomon, finegrs tapping away on one of the arms. He looked around taking in every last detail of what he could see, though when he spotted Kaoru he was unimpressed. He was not the first fallen angel, though a lot more powerful. Leaning his head on his untapping arm he looked at the advisor waiting, paitently.
Solomon looked around, " I would like to fight with Renzenku by my side for once. " He began to pace. " How about me and Ren take the other three. " He looked at the advisor, " Is that fine with you? ".
Solomon nodded after he heard the dvisors response, jumping high into the air he did a back flip and grew two large black feathered wings out of his back. Flapping them he flew straight toward Ren, having to move every now and then to dodge a lightning bolt. When he reached Ren he had no problem with the winds, and also stayed in place to the left sightly above him..