Shinigami Application
~Basic~
Name:
Solomon Black
Alias/Nickname:
Sully
Actual Age:
1533
Physical Age:
34
Gender:
Male
Division
: 11th
Rank:
Captain
~Appearance~
Height:
6' 3"
Weight:
177
Eye Color:
Deep Green
Hair Color/Style
: Jet Black
Complexion:
Tan
Special traits:
- A large scar starting just under his right eye and going down to the base of his neck
- A tattoo starting at his fingeryips as black tendrils that rise up his arm to grop hsi heart.
Picture: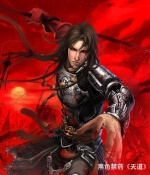 ~Self~
Personality:
A carefree loving guy. Who enjoys playing pranks and is just a kid inside. Sadly he is to everyone but his closest friends, distant and emotionless. Reacting to all situations calmly. He enjoys to fight, but not to kill, yet has no quarrells doing it. Enjoys money and making money. Despises hollows in every form, including vizards.
He is also quite against the failing of a mission and chooses that over the life of an ally or friend at all times. Never does his persnal life come before work. He would even sacrifice his wife for the greater good of the Soul society and the balance of things. Is a lover of old things, believing that with age comes true power, true knowledge and true realization.
Sexuality:
Single
Quirks
: - Hates complete jerks
- Does not like Dress Codes
History:
Solomon was born and raised in Newry, Ireland. He lived with his mother, Jane, and father, Oleksander, in a cottage on a large piece of land. From the age of 6 he was taught to wield a sword in all forms. He went to school like all other kids, was a straight a student did all his work at school so he had no homework, but when he got home he had rigorous training, all he did was eat sleep and train. He was proud of it though.
He had no real friends so he never went anywhere after school. His parents stopped all that when he turned 12 and his sister was born. His parents immediately stopped training him for they said it was not right to do around a girl. They only paid attention to his sister, Silver, so he became an angry lonely kid. He refused to do school work and started failing his classes, he was like this for four years.
His parent finally had enough of this and sent him to a private school at the age of 16. This was not an ordinary school, it had classes like all other schools, but in reality it trained teenagers to be killers. Solomon was whipped into line, and brainwashed to train for them for four years, he finally got out though, with the help of someone he meet there, Jerry Perkins, in the escape Solomon got away but Jerry got caught, and who knows what they did to him.
At the age of 20 he moved to Europe and moved constantly always trying to settle in for six years. He could never do it though, because of the school and just the way he was he was not compatible with other people anymore. He worked for the UN for four years trying to use a job with his skills, but his ruthless methods got him enemies, so he disappeared, he found another work after he left the army, one where his methods would be useful; he began to work as a mercenary.
By then he forgave his family but he wanted no ties, needed none. When he started work he began small, doing odd jobs and minor robberies, but over the course of his years he started doing bigger and bigger jobs. By the time he finally found a suitable place to live in after six years, Venice, he was one of the biggest and one of the best. He lived and worked there for another a year, until today, living happily and without regret.
On a mercenary mission, he was captured and tested on. Taking blood and teeth and hair. Cutting him open and sowing him back together. Sick twisted people, they did this for 20 years. Since he was special, with certain abilities. He was born with the ability of regeneration. His body would fix its cell's and even create knew ones from scratch, seemingly from nothing. His family thought he was a demon and locked him up at the age of 6. Preformed experiments on him, testing his abilities limits, ashamed of their son. Unable to kill him as they said they were not murderers.Until he broke lose. Finding his family gone, all killed by some mysterious thing, only later will he find out it was a hollow. That was also the day Solomon died of what was pressumed cancer.
Then he went to the Soul society. Prospered in the Shino academy with his Higher than the natural amount of Spirit pressure which was a extreme amount and natural fighting ability. Acing his classes, except in kido, where he was not so hot. He snuck out with his friend once. Sillian Juan, a very pretty girlwho he had known almost his entier life and was his only true friend until then who stuck by him through everything. Then they got attacked by a hollow, it killed his friend instantly, casuing him to go nuts and rip it to pieces with his bare hands. This was witnessed by the Captain of the 11th division who from then on wanted him in his squad.
Still he graduated and was put into the 11th division. In his short time as a low shinigami he would often be sent to deal with problems in the rukongai. He was still quite a loose cannon for some time, until he was damaged and far from help. He stumbled throught rukongai where no one woudl help him but one girl. She took him in and healed him. He said not a word towards her and she said not one to him. It was a time of silence and unspoken, but implied thanks. This was the event which forced him to become controlled.
During his small time as a nobody, Solomon went on many small missions to the human world alone. One to note he found a plus following a girl. He went to use Konso when the boy suddenly spotted him and dissapeared. Intrigued, Solomon let him be for a while. Stopping hollows from hurting the boy or girl until one day he noticed something. It was not his spiritual pressure that was attracting these hollows, it was the boys. He thought his games should end but he was swarmed by a great amount of hollows and one got loose killing the girl. He was only in time to save the plus. So noticing his potential he took him and brought him to the Shino academy.
After that he made a choice to stay high in ranking, but low enough that if he snapped again he was of no importance. Where he rose through the ranks getting to the fourth seat and keeping it. Being extremely faithful to his comrades, and always giving comic relief in tense situations. He has given himself a name within the soul society, though all he cares about is getting girls. He made many good friends throughout the years, but only one stuck out, a pevious love of his life. Hillary Trotman, she was beautiful. Tall, well endowed and with red hair and copper eye's. Sully fell for her again in an instant. Initially he stopped liking her because she was a complete bitch, but he forgot that now.
She was his everything for the longest time. She was the reason he was living, and when they started dating she was even more. He would work three times as hard to come home and impress her. Though after 20 years they mutally broke it off. The spark was gone, but they were the best of friends, joking about what hey used to do together.
So Sully lives on with his friends, until he then achieved 11th division captain.
~Zanpakuto Information~
Name:
Blades of Nuetrality
Sealed Blade appearance:
Two identical long sword. Four feet long blades , ending in a curve upwards to a point. One sided blades. The hilts are half a foot long and covered in gray bandages, some hanging off. Guardless.
The only difference between the two is one is completely black. WIth the word Chaos inscribed on it near its hilt. The other is completly White, with the word Order inscribed on it in teh same place.
~Shikai Information~
Release Phrase:
Caressing the Sins of the Dammed
Released blade appearance:
Only difference is that teh HIlts are much thicker...
~Shikai Techniques/Abilities~
Name of abilty/technique:
Splitting
Description:
The sword may spawn from it swords exactly the same to it, from it, up to 25. Without gaining any wieght. These spawned blades only protrude from the blade, and have no abilities.
Duration:
Passive while Shikai is active
Cool Down:
N/A
Preparation:
N/A
Name of abilty/technique:
Twin Serpents
Description:
Each sword may lengthen to great lengths. May twist and bend without losing it's durability. Limit in length is 50 meters.
Duration:
A posts
Cool Down:
2 post
Preparation:
N/As
~Bankai~(Captains only)
Name:
Harmonized Blades of Nuetrality
Bankai Appearance/spirit manifestation:
Explained in ability.
~Bankai Techniques/Abilities~
Name:
Fusion Mastery
Description:
Chaos and Order fuse together into a half black half white version of their shikai form, with the inscription on respective each side. They are then able to cut through DIamond with ease.
Duration:
Passive
Cool Down:
N/A
Preparation:
N/A
Name:
Hungry Serpents
Description:
The sword may bend and lengthen without losing its durability. Length Limit being 111 meters. Creates a loud hissing noise. May spawn 10 000 of normal sized blades from each, but not another one of it's kind. These blades do not have this ability and only portrude from it's source.
Duration:
3 posts
Cool Down:
] 4 posts
Preparation:
N/A
~Other Techniques~
Swordsmanship:
Kenjutsu master, knowledged and master of four techniques. This has come from his extensive amount of training and having viewed and fought many other swordsmen, adapting their styles.
Shunpo:
Advanced of from intensive training with previous masters...
Hand to hand
: Advanced Hand to Hand combat. Again from such length of training and fighting with masters of Hand-to-hand.
Kido:
Is kinda decent at Kido, can do it... that is it. He was never very good at it in the academy.
Others
~
Rp Sample
~ ( Is form Naruto site)
Haiechi stood just outside the mist village. Looking back in, he felt bad about what he was about to do. He had grown up in this place, it was his home. Though after gaining the sword and rising in power, people began to hate him and fear him. He hated their look's made him want to kill them all.
He left a sheet of paper on the desk of Sairento, telling him of what he was doing. Though it seem's some people were very against his leaving. So he also left Sai a present. A little parting gift you could say.
He thought back to the condition the room was in. Sai's four jounin level guards, lying dead on the floor. Their blood coating the walls and floor. Each one with their limbs hacked off and strung up on the ceiling. Each head being used as a paperweight for his note, keeping the corners down. Luckily each head was drained, or else to much blood would have gotten on the paper.
He licked his lips, accidently cut his tounge though, so he made a small yelp. Sucking on the blood, he nodded and turned away from the village walking off to the snow, a place where he now leads. His new home. He hoped Sai had no bad feelings. He waved back at the village.
" Au revoir. "
Quote:
Dear Sairento Bakuhastu
I humbly apologize for leaving on such short notice. It is very rude of me, but I have important buisness to attend to. This is my resignation, and my leave of your village. Thank you for treating me with such respect and care while I lived with you.
I am off to the Snow. A place I now have full control over as their new leader. Suprisingly I did not assassinate the old one, but was appointed in one of my many visits. I hope you are proud.
I hope that us two may still remain ally's. Have a nice day.
Sincerly
Haiechi Nuuben